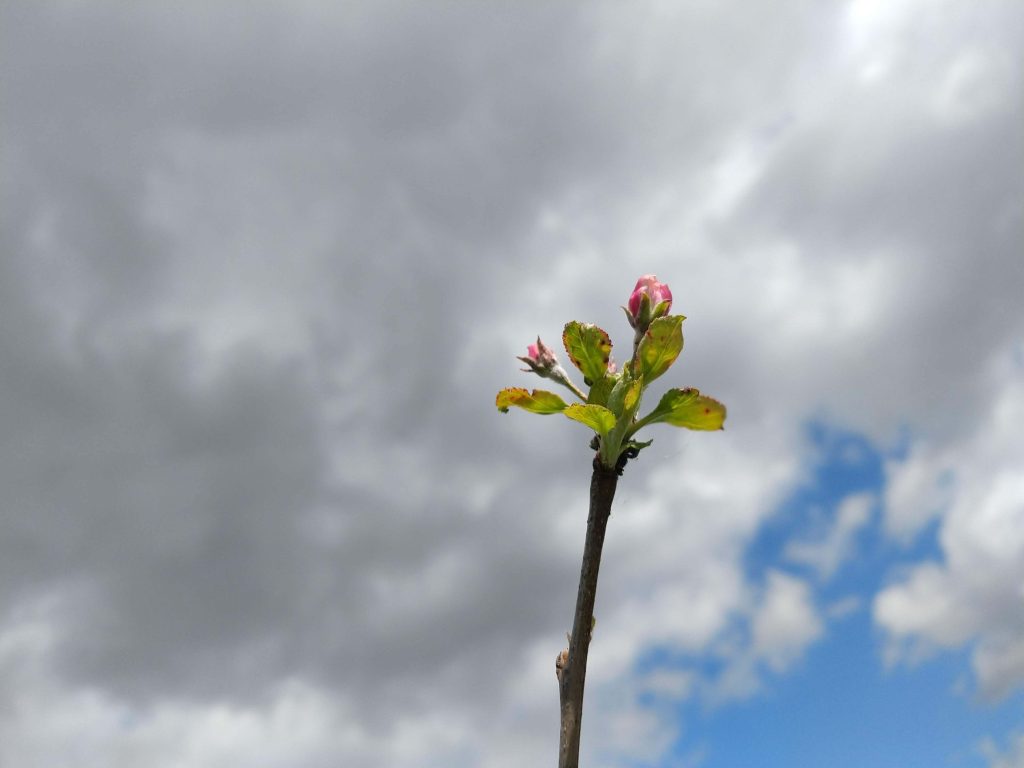 I've been meaning to write more posts the past year. But I didn't.
I didn't take the time to sit down, to stop doing other things and to write.
I planned to write about our new apple tree and about a great album from the seventies, who both hold the name 'paix' and who both are important to us (the mister and me).
The album, we discovered some years ago when we already left the city and moved to become small town heroes. And I know there's a lot of bad stuff to say about Spotify, but over the years I've discovered a tremendous amount of new old music, much like I did when I was young and went to the discotheque in our local library. (See this post). And this was one of those way too late discoveries.
The album is called 'Paix' by Catherine Ribeiro + Alpes and was released in 1972. The album floats in between psychedelica and prog. The poetic, activist lyrics Catherine Ribeiro chants-recites réminiscence of what beat poets had done before her. The lyrics are clear, explicit, undone off any 'flou'. But above all they are straight to their point, say what they have to say and in doing so, capture a moment of a scene living in certain times in history.
I've always been a 'sucker' for lyrics. Maybe that's also why, as a ux designer, I find it necessary to write (at least the first draft of) copy.
Good albums can be a total disappointment if the lyrics are rubbish. The other way around, so so music can be saved by good lyrics. And although I'm not a big fan of too simple, stripped down and rough, or too explicit lyrics (I do love some witty, cleverly written texts), what Catherine Ribeiro sings, does strike a cord. Despite that it is stripped down, seems simple and is rough.
She sings about a world where balance, solidarity, humankind is lost accusing who needs to be accused. Already then. And listening now, having some idea of how the world was turning in 1972, and knowing the history that came after up to today, makes the album as relevant to me now, as I imagine it must've been in '72 for many.
The tree, I planted almost a year ago, in February 2021. We decided we wanted more trees as we have a garden and we consider it our duty to plant trees, but also a pleasure to have more nature and more shadow for the years to come.
I started doing my research for apple trees in the summer of 2020. One of my dives in rabbit holes.
We were given a sprout of a chestnut tree not long after we moved to our house. We knew we wanted more trees, and as the youngest adores apples, it didn't take us much time to decide it had to be an apple tree. On top of that we live in a region perfect to cultivate apple trees. A 15 minute bike ride takes you right through kilomteres of apple fields.
But, although I did know there are many variants in apple trees, I was still astounded to the amount of varieties there actually are. I discovered the malus 'la paix', a variety that has its literal and figurative roots in this region.
There was no other choice left, this was the tree we needed to plant in our garden. To bring a truly local variety back home and to bring an ode to great music and activism for solidarity and humanity.
After deciding the genus, the next hurdle was to find horticulturers that held the genus we were looking for. So by the time I did, summer turned to fall turned to winter. But seen you can plant apple trees from november through march, I ordered one when I found it and planted it in february.
I thought the ground would be frozen hard and digging the hole would be a struggle. I took a whole day leave from work. After taking the kids to school, I gathered all tools according to the notes of the horticulturer and started digging. I think the hole of 50 x 50 x 50 cm took me less than a quarter of an hour and another 30 minutes later the tree was planted and all there was left was waiting for it to take root.
One week after planting came the coldest weeks of the year. And as winter slowly turned to spring, we feared the tree might not've made it through the cold. We told ourselves it was natural as it really froze for weeks, what young tree would survive, we'd get a new one and plant it earlier on, we'd pay more attention to the forecasts etc.
But spring came and soon little buds starting showing on the frail branches soon to become young leaves. The tree made it. Peace did not freeze.
Only later did I realise that in all my enthusiasm for a tree named paix, I forgot the little detail that this variety needs another tree to bare fruits. So in october I planted our third tree, a beautiful James Grieves that should pair wel with paix and hopefully soon we'll have green and red apples to enjoy wile listening to some music in our garden.
October came and it was a month of loss. Days seemed endless but they flew by, now it's the end of january and I'm just publishing this post. But maybe I'll get to that later.